Hand Tied Weft- Not to be mistaken for Machine-tied Wefts, which are made mechanically. Each Weft is Hand Crafted with Double Drawn, 100% natural hair, cuticle intact and GUARANTEED cuticle correct alignment.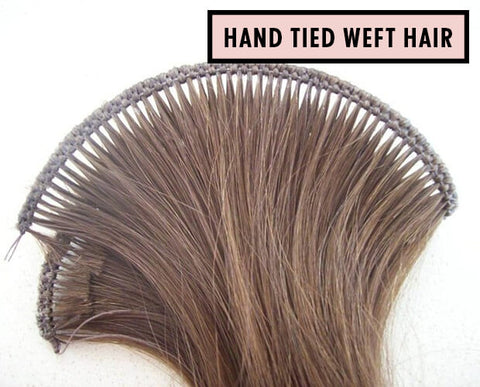 Machine weft extensions are a collection of hair sewn together by a machine. The wefts themselves are thicker and weigh a bit more. Machine wefts can be cut because of how they are made-- making them more durable and sturdier.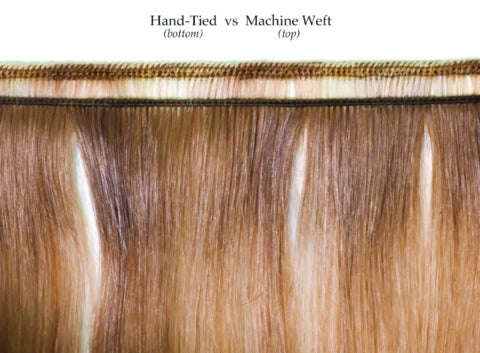 The benefit of using hand-tied hair extensions is because every weft is individually handstitched. They are created with high precision so each weft is very strong and prevents shedding. The wefts are larger and cover more area, so less has to be sewn in, easing your natural hair from heavy extensions that pull on your scalp. Our hand tied weft hair extensions are crafted by our highly trained staff in-house at our own workshop, assuring you of a top quality, long lasting wefts. Unlike the Regular hair wefts, which is thick and heavy, our hand tied weft hair extensions are small, strong, durable, and hard to detect. Our hand tied weft hair extensions are just right in size which allows the hair to lay flat once in place. And they does not use any harmful chemicals or toxins, so they are very gentle to your real hair. These characteristics make hand-tied wefts an excellent choice for a more permanent (sewn in) hair solution.  Hand-tied extensions can be treated and maintained like your natural hair. They can be washed, straightened, or curled to blend with your hair. The best part about the installation of hand-tied extensions is the fact that they don't require heat or any bonding glue. It can be easily installed without damaging your hair. From the installation process to maintenance, this hair was created for your convenience.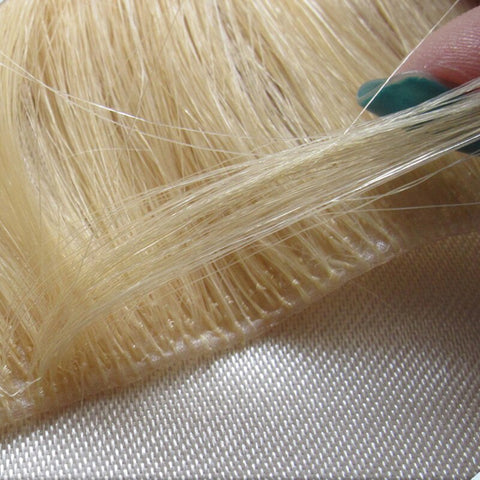 There are some things worth noting about hand tied weft hair extensions. Do not cut the  width of the weft, if the weft is wider than you need, just fold it. Do not cut the thread off of the weft edges. Never brush wefts when the hair is wet as this is  when it is most prone to breakage. instead wait until it is 90% dry. As always with extensions the better care you take of your hair, the longer your extensions will last. Using sulfate free and alcohol free products will help to keep your extensions healthy and hydrated. It is important to consult with a stylist prior if you have any questions.